Many travelers chose to stay at a khaosan road hotel when they traveling to Bangkok for some reasons. When it's time to travel, picking the right area for your base is key. To start, you'd want the main three: Location, convenience and comfort. Economy hotels are such a popular choice for this reason. But what if you also want a bit of style at your stay? That's why you should pick ibis Styles Bangkok Khaosan Viengtai as your chosen Khao San road hotel. You'd get all of this and more! Find out below just why you should spend your next Bangkok trip exploring this charming neighbourhoods.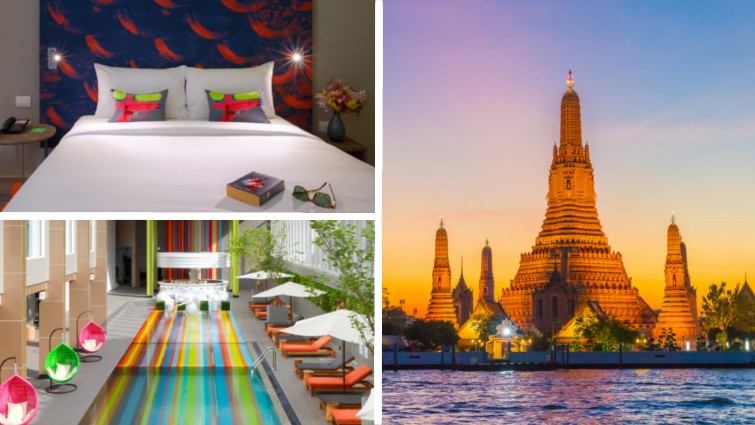 Why a Khao San Road Hotel? Why not!
Named after "milled rice", this once sleepy road is now one of the most well-known backpacker haunts. The starting point for many an explorer's Asia trip decades ago, What's the secret for this longevity? Khao San's unique charms might be the answer! You get to explore Bangkok's past and present. Now more than just cheap beds, the area around Khao San road offers everything a modern tourist needs. Explore local markets, or dine by the street or at various restaurants. There are ample places to party, from hip bars to posh nightclubs. Traditional massage shops, clothing shops and travel agencies also offer their services. A score of temples, monuments and even the Grand Palace are some of the key cultural and historical sights that are moments away. A Khao San road hotel is clearly is the choice for travellers seeking a little bit of everything during their trip.
A Khao San landmark
Being in the Khao San area is a must, though experts will know that the best accommodation can be found right next door. Charming Soi Rambuttri runs parallel to Khao San Road. This means you remain close to the action, yet have peace of mind. The top hotel in the area for travellers in the know is ibis Styles Bangkok Khaosan Viengtai. Once the legendary Viengtai hotel, it has now been renovated and reborn as the only international hotel in the area. Offering comfort with chic "Thai retro-themed" design, it's the best accommodation choice around.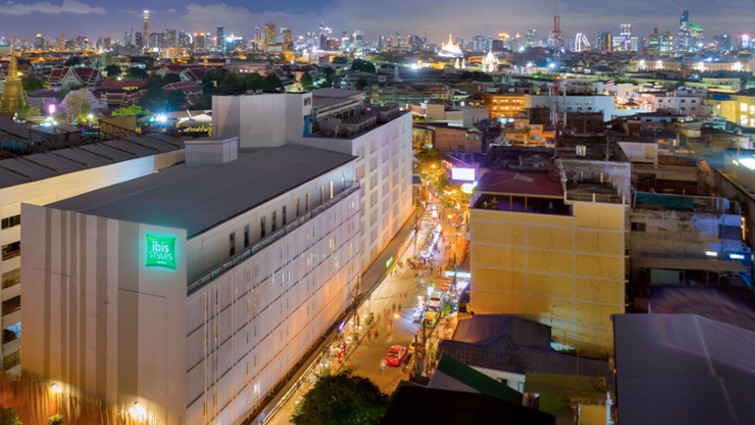 Stay in style at our Khao San Road Hotel
Budget-friendly convenience meets design when you stay at ibis Styles Bangkok Khaosan Viengtai. Whether you are a solo traveller, a couple, a family or group of friends, there's a room for you. Each of the three room types is adapted for traveller needs and draws from the colours and elements of Thai culture. Make the most of every night's sleep with the renowned ibis SweetBed in every room. Breakfast becomes an experience thanks to the elaborate buffet at Streats Café. European staples and Asian breakfast treats make it a meal to remember. Another highlight is the hotel's signature
outdoor rainbow pool. This is a photogenic treat rarely found in a Khao San Road hotel.
A culinary destination
Inspired by local and international flavours, Streats aims to nourish hearts and minds as well! The hotel boasts three outlets with their own unique charms. Meet the day with freshly baked bread and pastries at Streats Bakery. Buffet lovers can't miss the daily breakfast and lunch offerings at retro-chic Streats Café. Or spend your days hanging out at cool Streats Bar & Bistro. The extensive menu will have diners covered with local specialties and classic bar bites. Beverages span signature cocktails, draught beer and more. Even better, stay for the live music available most nights of the week.
Cultural highlights
When it's time to explore, the must-see highlights of the Grand Palace and Wat Pho are within walking distance. Wat Arun (Temple of Dawn) is only a quick boat ride across the river. Another photogenic sight for visitors is Wat Suthat (Giant Swing). Did you know that Bangkok has its own mountain? Wat Saket (Golden Mountain) is also one of the oldest temples in the city. It boasts some exceptional views! All these and more are all within easy reach from ibis Bangkok.
World-famous nightlife
Night falls and Bangkok transforms. When it comes to the party-scene, Khao San road is famous for a reason. Get ready for a night to remember! There's a place for every taste. Upmarket clubs are side by side to dive-bars and even street side stalls offering buckets of potent cocktails. Tourists mingle with the university students and locals visiting the area to unwind and have fun.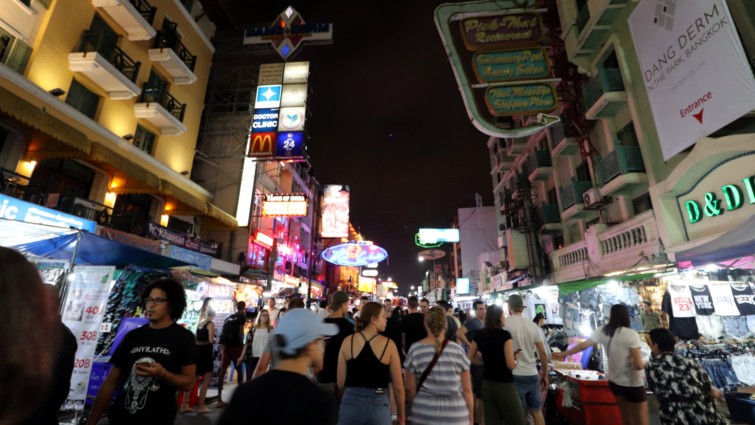 Getting to our Khao san road Hotel
This trendy Khao San Road hotel is easily accessible by taxi or airport bus. You can reach both Don Mueang and Suvarnabhumi International Airports within one hour. Hot tip? Better safe than sorry, so allow up to two hours during the morning or evening rush hours.
In addition, ibis Style Bangkok Khaosan Viengtai's closeness to the Chao Phraya River is an added bonus. Experience yourself why Bangkok's old moniker was the "Venice of the East". It's easier than ever to explore many parts of Bangkok by the city's river shuttleboats. Need to journey into the city? The hotel's own shuttle service makes it easy! It drops guests off at Phra Arthit pier and MRT station Sanamchai daily from 9 am – 4pm. Otherwise, both the nearest MRT and BTS stations are short taxi rides away.
So be sure to dive into Bangkok's charm for your next trip to Thailand. For that, you're in the right spot when you pick ibis Styles Bangkok Khaosan Viengtai. Your favourite Khao San Road hotel is waiting!